Sometimes life gives you the opportunity to create something really special. Getting to work hand-in-hand with a piece of furniture's new owner during the creation process is one of the most rewarding things about the work I do here at Southern Joinery. Recently I got two such opportunities and the results are fantastic. These two beds required months of planning and crafting to fulfill two of my customer's dreams.
Both are queen size platform beds with built in floating nightstands and clean, sleek lines.
The first I crafted from Sapele, an African wood species known for its wide variety of figured grain patterns. It has a distinct Danish Modern influence particularly visible in the legs of the bed. I built in a drawer for storage and an under shelf on each side. A power strip was installed at the back of the shelf for a convenient charging station.
The new owners were particularly pleased!
"We are in love with our custom bed created in collaboration with Ben
Harrison. In the past he has built custom craftsman style sofas and end
tables for us so when we decided to embark on creating a mid-century modern
queen size bed we of course thought of him!
We begin with four or five images of beds that had features we wanted to
incorporate into our design. Over a couple of months we reviewed drawings
and had brainstorming sessions with Ben on how to incorporate things like
cantilevered nightstands or hidden power bars. We decided on Sapele as the
wood because it closely matched 1960's Teak Danish chair which would be
placed in the room.
This is not just a piece of furniture it is a piece of artwork created by a
true craftsman!"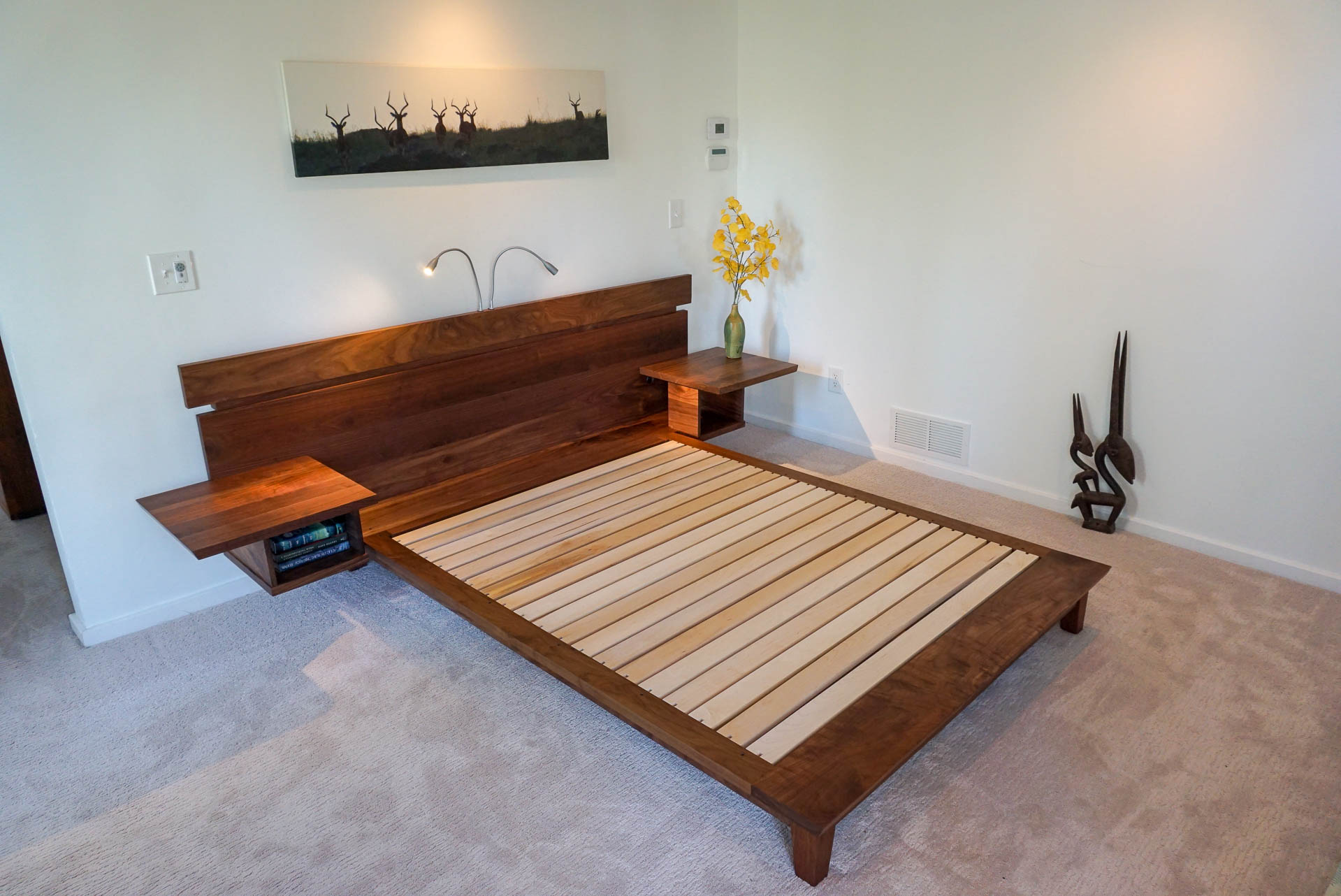 The second bed, made from Walnut, was similar because of the fact that it was crafted in three major components; the platform, the headboard, and the protruding cantilevered night stands. This created an effect on both beds where the night stands seemingly float beside them.
Now that these two great projects are complete, it's time to begin something a little different… details coming soon. Make sure to sign up for my email list so you never miss out on a new blog or sale!